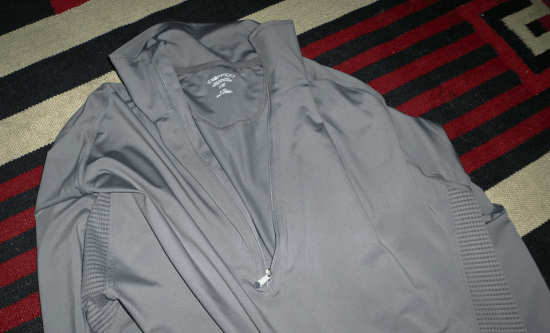 The differences in modern hiking clothing don't matter much to me. If it's made from a synthetic fiber that dries quickly, and that does a decent job of keeping off the sun and wind, it works for me. But in the past couple of years, two pieces of clothing I acquired have stood out from the pack. 
My Ex Officio Sol Cool shirt (with full length sleeves and a half zip) is supposed to feel five degrees cooler than a conventional synthetic-fiber hiking shirt. I was dubious, but as I hiked last summer I realized that the skin under the shirt definitely felt cooler than the skin under my pants. The fabric seems to do an especially good job of wicking sweat, spreading the cooling effect as the sweat evaporates. Also, I could feel summer breezes more easily through the shirt. This isn't a shirt you want to wear in the winter, but on a hot day I'll wear it every time. I used to wear old cotton dress shirts in the desert summer (when it's that hot, damp cotton is a blessing not a threat), but this shirt works even better.
I burn easily and worry about skin cancer, so long sleeves are a must for me. Thanks to the cooler-feeling fabric, the long sleeves don't feel as stifling as on many other shirts. And there are thumb holes at the cuffs, which means that the shirt can be used to cover the weather-beaten backs of my hands.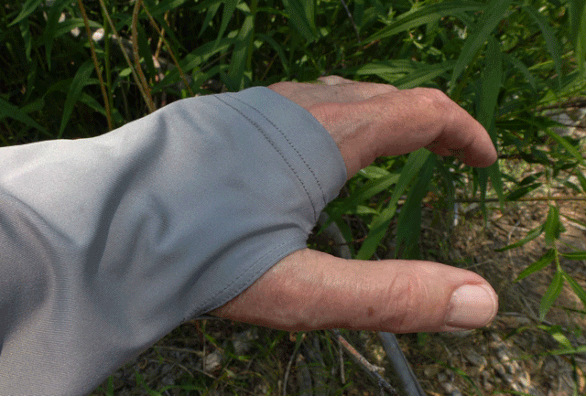 ---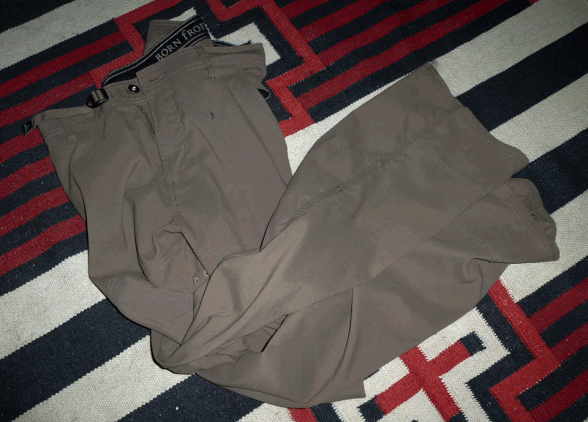 Similar story with pants. In warm weather, all I want from pants are (1) modesty and (2) protection from the sun. (For Reason No. 2, shorts aren't an option for me.) The only time I got rid of a pair of hiking pants was because of seams that rubbed annoyingly against my knees as I walked along. So brands and models don't matter. In the summer, that is. In the winter, lightweight hiking pants do a poor job of keeping my legs warm.
I found these Prana stretch Zion pants on sale in an outdoor store in Taos, and the first thing I noticed was that the fabric is heavier than in my other hiking pants. Not by much, but enough to help block those bitter winter breezes. I bought the pants for that fact alone. But the pants have a couple other features that I really like, and I'll show close-ups of those.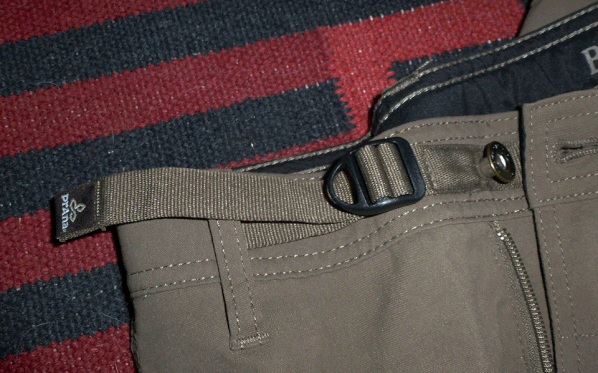 The first enhancement is this waist adjustment tab, which means that your pants will stay up when you don't have a belt on. When I use my belt to hold gear, there are brief periods when my pants are on but the belt isn't on and cinched. Nice that the pants stay put until I've got my belt-plus-gear taken care of. A very small issue, but I wish all hiking pants had this feature.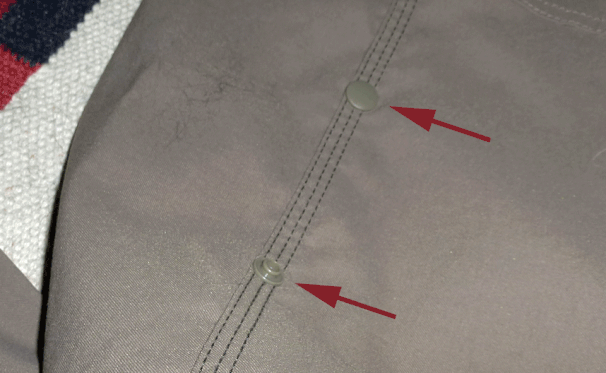 The second thing I really like is these two snaps near the bottom of each pants leg. If you're wearing convertible pants and need to cross a small stream, you'll zip off the pants legs, of course. But if you wear full pants, you'll need to roll up the legs. Not only are the legs of these pants roomy enough to roll up, the two snaps will hold the gathered fabric in place until it's time to roll down the legs again. Here as well, I wonder: why doesn't every pair of hiking pants have this feature?