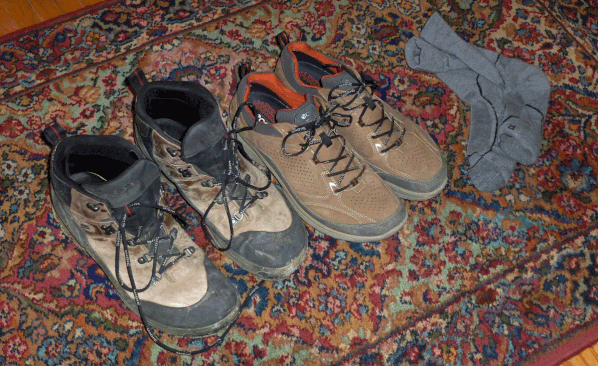 Most hikers don't have bottomless pockets. I sure don't. But if you're going to splurge on one thing, splurge on your footwear. You pay for cheap boots and socks with foot pain and blisters, and possibly with sprains or bone breaks due to inadequate ankle support. (Having started my hiking career in cheap boots, I speak from experience.) There are plenty of good boots, shoes, and socks out there. In this blog I'm not plugging specific brands so much as talking about what makes them work for me—so you can make similar decisions.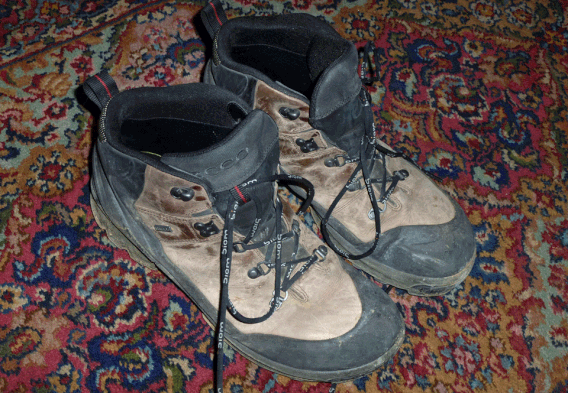 These are my go-to boots. Yeah, big and heavy, the sort that ultralight hikers loathe. But a lot of the best New Mexico hiking involves off-trail travel over ankle-twisting terrain. Plus there's loose sand and snow that will try to get into your boots. Last but not least, when you accidentally put your foot down in cactus, you want something  that will stop the spines. Mine are Ecco Biom Hike boots made of yak hide, which is much tougher than cowhide. They seem horribly expensive, so my advice is to wait to find them on sale. They broke in very quickly and have been comfortable ever since, two qualities I prize in hiking boots. Looking at the picture I'm thinking it's time for their first serious cleaning and re-waxing, but mostly I throw them in the closet after each hike and they take care of themselves.
One reason I go with Eccos is the toe boxes. I have big toes, I guess; with many boots, the toe boxes are just a bit too small for me. Recently I had to give away a great pair of Keen mid-weight hiking boots for that very reason. I did my best to ignore the poor fit but as soon as I was walking downhill, my toes jammed against the end of the toe boxes. With the Eccos that doesn't happen. Little problems of fit translate into big problems on the trail, so your safest approach to buying boots is to go to a store—that way you can try them on first.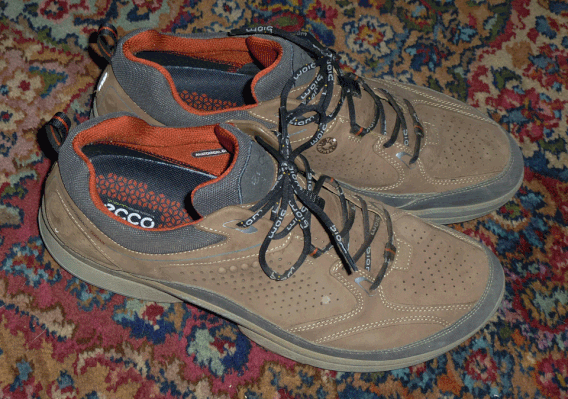 These are also Ecco Biom shoes (the Grip model), and also made from yak hide, but an ultralighter might not sneer at them. Like the heavier boots, they have the extra bit of toe room I need. I've worn them to the office and on groomed trails, but I've also gone cross-country with them, and they provide plenty of support and foot protection for the weight. I wouldn't wear these in the roughest terrain I visit, or with a heavy pack, but they are undeniably more comfortable than the heavy boots I've used for decades.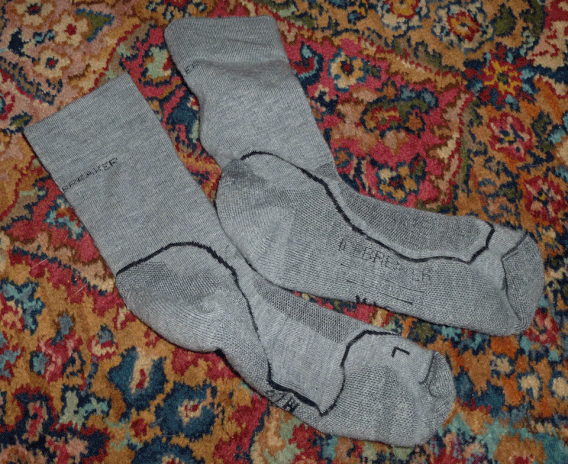 Once you've spent a lot of time, thought, and money on getting the right boots, don't wear them with cheap socks! The right socks will be comfortable, will help prevent blisters, and will help keep your feet warm (or cool). These Icebreaker socks come in left and right sides, something I thought was silly until I tried them. In the picture you can see the "L" for the left sock, something I find very handy when I'm groggily dressing at the crack of dawn.